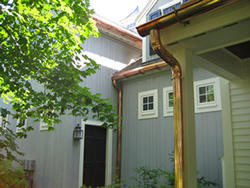 Do you have a larger home or a complicated roof line? High-performance, commercial grade rain gutters can provide the protection you want, no matter what your water diversion needs.
In order to handle increased water flow, New London Seamless Gutters offers everything from 5″ and 6″ K-style aluminum and copper gutters to half-round 5″, 6″, and 8″ copper gutters. If you have a structure that needs protection from the elements, we can help.
For more information contact us or request a quote.