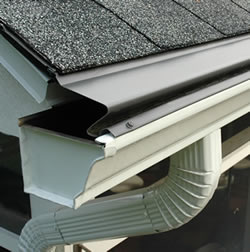 Simply adding a gutter system provides valuable protection for your home. But adding a gutter system with Leafproof takes the worry out of maintaining your ally against the New England weather.
A traditional gutter system requires regular cleaning—often, time on a ladder that can be difficult and dangerous. Leafproof saves you the trouble by acting as a barrier between solid debris and your gutter system, keeping leaves and other matter out, while allowing water to pass through unobstructed. And in the winter, Leafproof offers the added bonus of preventing the buildup of ice and snow inside your gutters.
For new gutter installation, or as an improvement to your existing gutter system, easy-to-install and visually discrete Leafproof is a worthwhile addition to your home. Contact us or request a quote for more information.